Andros is, without a doubt, an island of culture and art.
Many Andriots excelled in literature and arts, with greater example that of poet Andreas Embirikos. Another exceptional personality was Theophilos Kairis, one of the greatest Greek intellectuals of the 19th century, or Michael Dertouzos, professor at M.I.T. USA, who is considered as the "father" of Information Technology (IT).
Andros still pertains its rich cultural tradition, offering to the public the opportunity to visit several museums and foundations. Every summer, it hosts numerous events that attract thousands of visitors.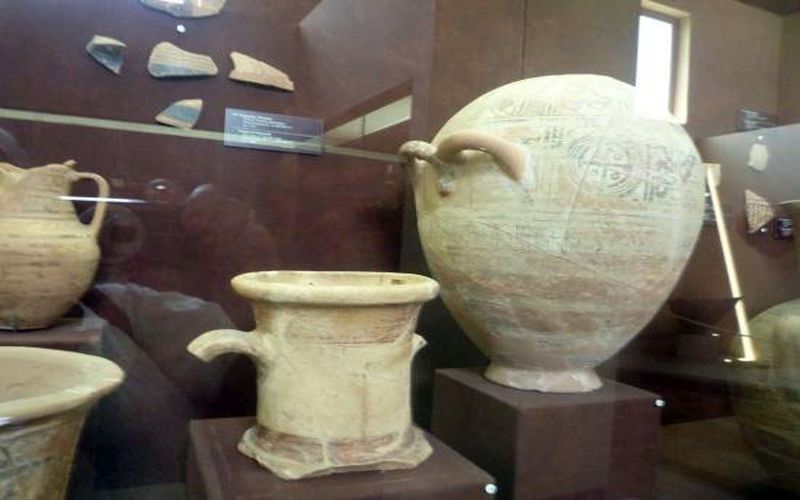 ARCHAEOLOGICAL MUSEUM OF ANDROS
The Archaeological Museum of Andros was designed by architect Stamos Papadakis and built in 1981, following a donation from the Basil and Elise Goulandris Foundation. It has a projection room, while from time to time there are exhibitions of modern art at the atrium, in co-operation with the Museum of Modern Art of Basil and Elise Goulandris Foundation.
The Archaeological Museum exhibits:
-Collection of findings from the Geometric settlement of Zagora.
-Collection of sculptures dating from the Archaic to the Roman times.
-Collection of pre-Byzantine and Byzantine sculptures.
Location: In Chora, at "Theophilos Kairis" square.
Opening hours:
Tel: (+30) 22820.23664 – Fax: (+30) 22820.23664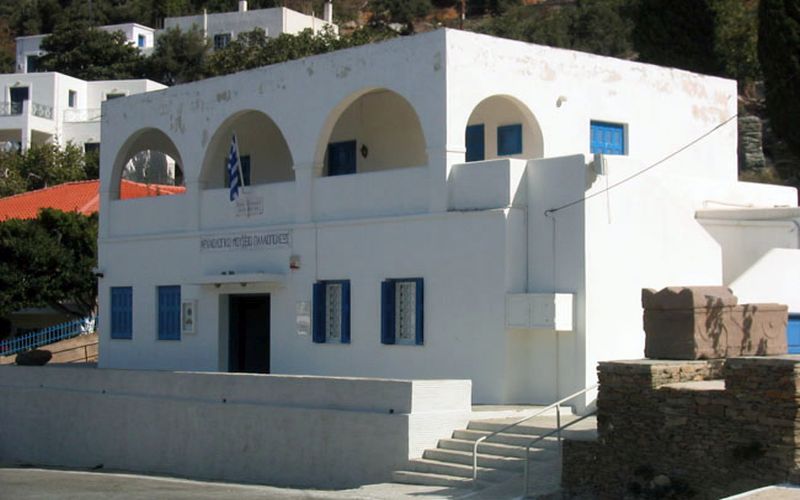 ARCHAEOLOGICAL MUSEUM OF PALAEOPOLIS
The Archaeological Museum of Palaeopolis inaugurated in 2003 and is dedicated to the antiquities of Palaeopolis, which was -for twelve centuries- the capital of the island. It is housed in a building, donated to the Community of Palaiopolis by the Basil and Elise Goulandris Foundation. The museum contains collections of sculptures, statues, coins and inscriptions found in the excavations of ancient Palaeopolis.
Location: On the main road from Gavrio to Chora, in the center of Palaeopolis village – 20 km from Chora and 12 km from Gavrio.
Opening hours:
Tel: (+30) 22820 41985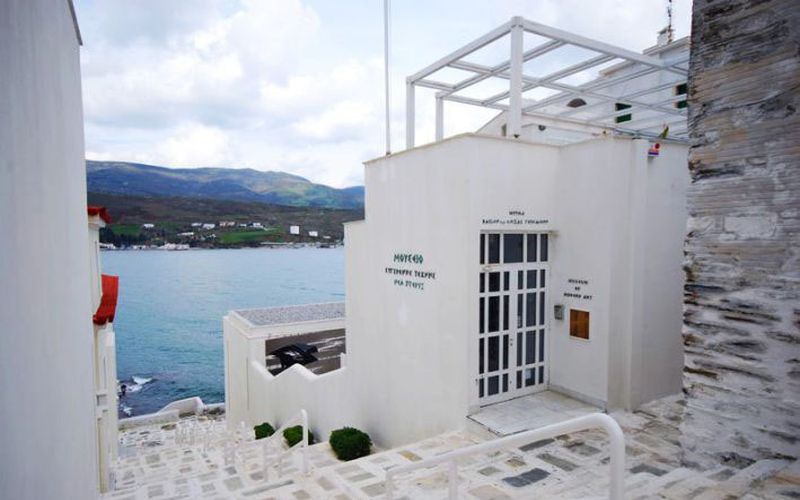 MUSEUM OF CONTEMPORARY ART
It was inaugurated in 1979. The initial reason was to exhibit the collection of works by Andros native sculptor, Michael Tombros. The exhibits were further enriched by part of the personal collection of the two founders, Basil and Elise Goulandris, consisting of more than 300 works of distinguished Greek and foreign artists. This first part of the museum is now the Old Wing and hosts sculptures of Tombros, Zoggolopoulos, Chryssa, Nikolaidis, Takis, etc. From 1983 to 1985, it hosted temporary exhibitions of Greek painters. The increasing attendance and interest on behalf of the public led to the expansion of the museum. Hence, the New Wing, designed by architect Christos Kontovounisios, was inaugurated on July 1986 and situated opposite the Old Wing. The architectural integration of the building with its surroundings received a distinction in an international competition. The New Wing of the Museum houses a library, a museum shop, a projection room and spaces for international exhibitions. The works of significant modern artists, which are exhibited since 1986 until nowadays, are a benchmark in the cultural scene, introducing both the museum and Andros in the Greek cultural map. The museum has hosted, among others, artists such as Paniaras, Picasso, Matisse, Karagatsis, Kandinsky, Bouzianis, Balthus, Galanis, Giacometti, Klee, Chagall, De Chirico, Rodin, Joan Miró, Georges Braque, Nikos Hadjikyriakos-Ghikas, Sophia Vari etc.
Location: In Chora, at "Theophilos Kairis" square.
Opening hours
Winter season: November 1st – March 31st: Saturday, Sunday and Monday 10.00-14.00. April 1st – October 31st: Daily (except Tuesday) 10.00-14.00.
Summer season: July 1st – September 30th: Wednesday – Sunday 11.00 -15.00 & 18.00 – 21.00. Monday: 11.00 – 15.00. Tuesday: Closed.
Tel: (+30) 22820 22444 – Fax: (+30) 22820 22490
Web site: www.moca-andros.gr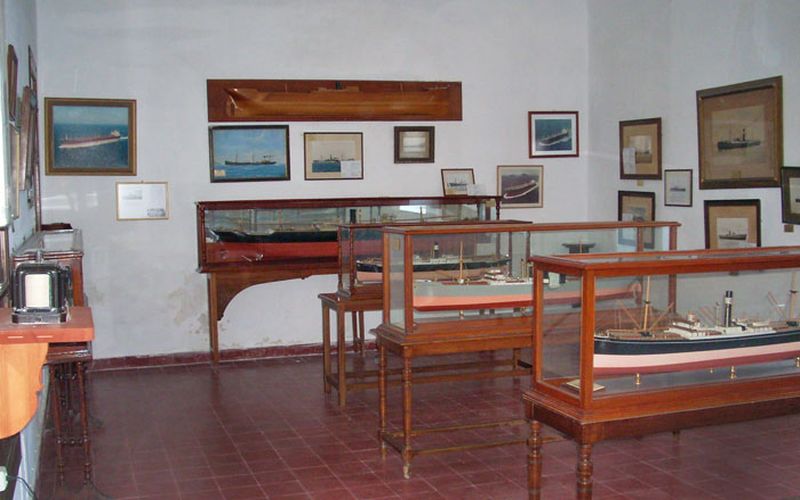 MARITIME MUSEUM OF ANDROS
The museum was founded in 1972 and the most important of its exhibits are the old freight contracts, insurance contracts, various nautical diaries, where the life of the Andriots on the seas before the 1821 War of Independence is described, lithographs of Andriot ships and the later first stream freighters of Greece etc. The Maritime Museum, along with the square of the "Unknown Sailor", were donated by Nikos I. Goulandris family.
Location: At Chora, just before the "Unknown Sailor" square.
Opening Hours Summer season: Daily 8:00 – 22:00
Tel: (+30) 22820 22275 Fax: (+30) 22820 24166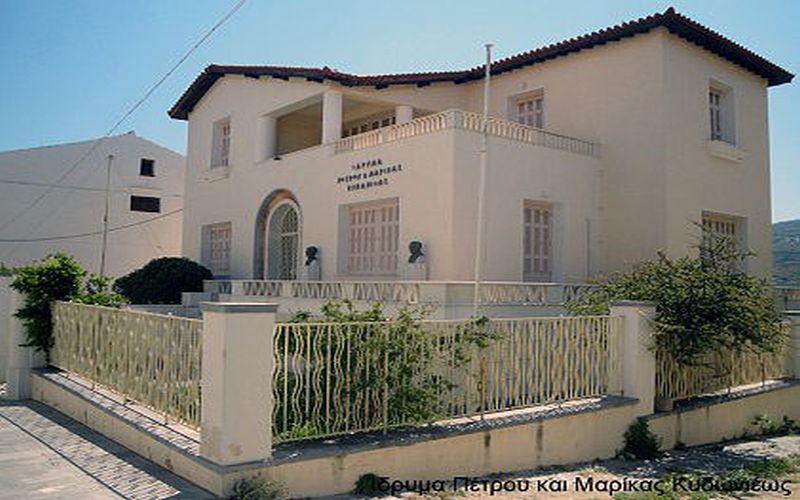 KYDONIEOS FOUNDATION
Kydonieos Foundation was founded in 1994 by Petros and Marika Kydonieos. Its main objective is the promotion of cultural events and exhibitions in Andros. The Foundation's philosophy aims in two directions, the first of which is to culturally educate people of Andros. For this reason, the pottery workshop opens in 1997, while since 1994 the Foundation provides Byzantine music lessons to children and adults and since 1998 instrument lessons (mandolin, guitar, piano) to children aged 7-18. In addition, since 1997, it offers scholarships to the Andros' high school graduates who succeed in the entrance examinations of the Greek Universities. The second direction concerns the events taking place during summer. Since 1995, the Foundation is organizing a special event called "Ploes" that takes place every summer introducing important painting and sculpture exhibitions of famous artists, such as Tsoklis, Pavlos, Takis, etc.
Location: At the entrance of Chora.
Opening hours
Winter season: Saturday, Sunday, Monday, 10.00 – 14.00
Summer season: Daily (except Tuesday), 10.00 – 14.00 During exhibitions: Monday – Saturday 10.00-13.30 & 18.30 – 21.30 Sunday 10.00 -14.00, Tuesday closed.
Tel: (+30) 22820 24598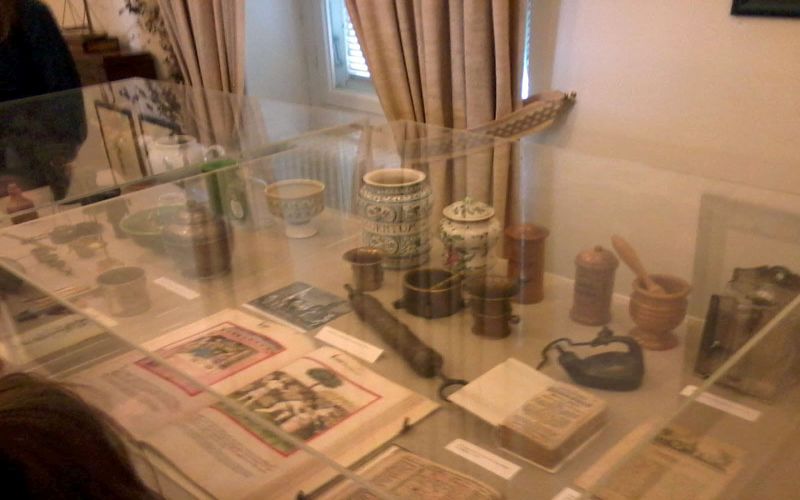 KAIRIOS LIBRARY
Kairios Library was founded in 1987 as a non-profit private legal entity, thanks to the efforts and persistence of the Andriot historian, Dimitrios I. Polemis. The Library holds around 60,000 volumes of rare publications, manuscripts, and extensive archives referenced to Andros shipping and courts. It also maintains numerous art works, a collection of ancient pots and statuettes, objects of historical value and items of popular culture. There is a book lending service and a children's book department. Kairios Library has established a fully equipped and advanced book binding workshop, offering training seminars and maintenance of old books, documents and folklore objects.
Location: At the entrance of Chora.
Opening hours:
Tel: (+30) 22820 22262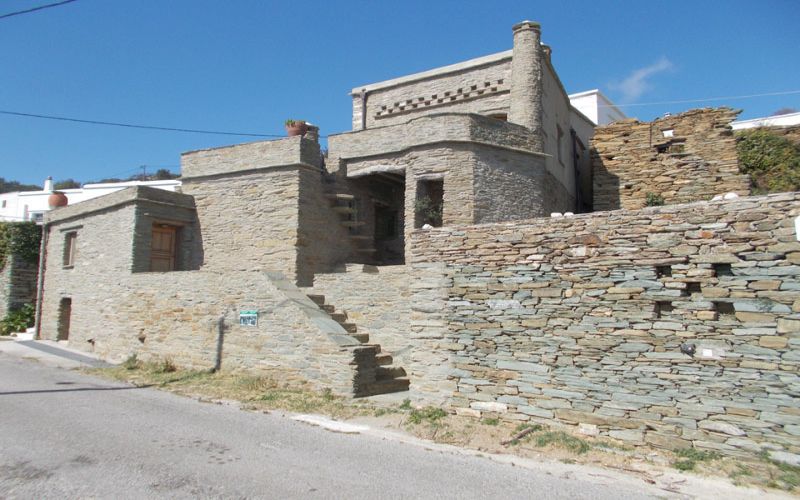 OLIVE MUSEUM
One of the best preserved old olive mills in Cyclades is the animal-powered olive mill of Dimitris Chelmis at Ano Pitrofos. The building dates back earlier than 1823 and was restored according to the traditional architecture. This olive mill retains its original equipment and in 1997 was transformed into a museum, where visitors can get a view to the traditional oil production method in Cyclades. A video with an animal powered olive oil production has been filmed in the museum and is screened to the visitors. It is considered a great example of agricultural heritage, pre-industrial technology and architectural tradition.
Location: At Ano Pitrofos village, 7 km before Chora. How to get there: On the 5th km of the main road from Stavropeda to Chora, you reach Pitrofos village. Follow the left road to Ano Pitrofos that will lead you to the entrance of the museum.
Tel: (+30) 6932731776
For the visiting hours please see the web site of the museum: www.musioelias.gr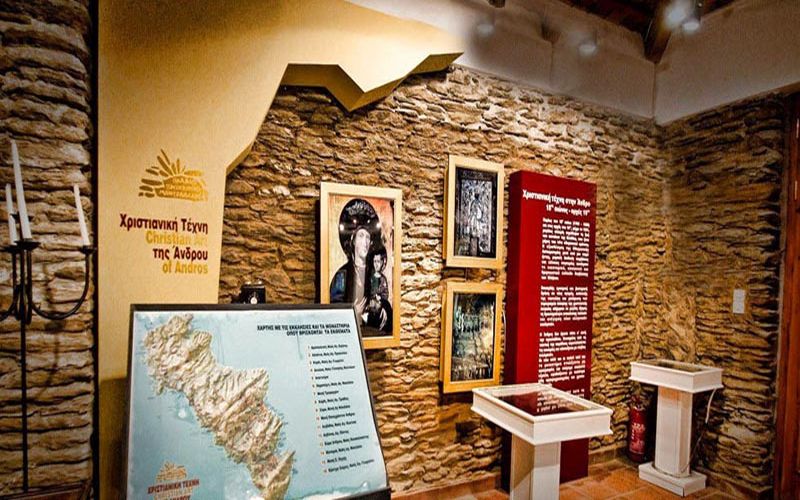 FOLKLORE AND CHRISTIAN ART MUSEUM
It is an old ice factory, which belongs to Mantzavelakis family and was restored and transformed into a folklore museum. The lower level exhibits are from a typical "Andros Home", while the upper level -used to function as an olive mill- is dedicated to the 18th century Christian art of Andros. During that period, great Andriot painters, whose works are still preserved in various churches of the island, excelled (Theodosios, Nicholaos Mintrinos, D. Bernardis etc.). The area is divided into three sections and aside hagiography, there are references in ecclesiastical silverwork and wood-carved iconostases.
Location: Shortly before entering Chora, just behind hotel "Paradise".
Opening hours Summer season: In July, weekends only (10.00-14.00) and in August, daily (10.00-14.00). Tel: (+30) 22820 22189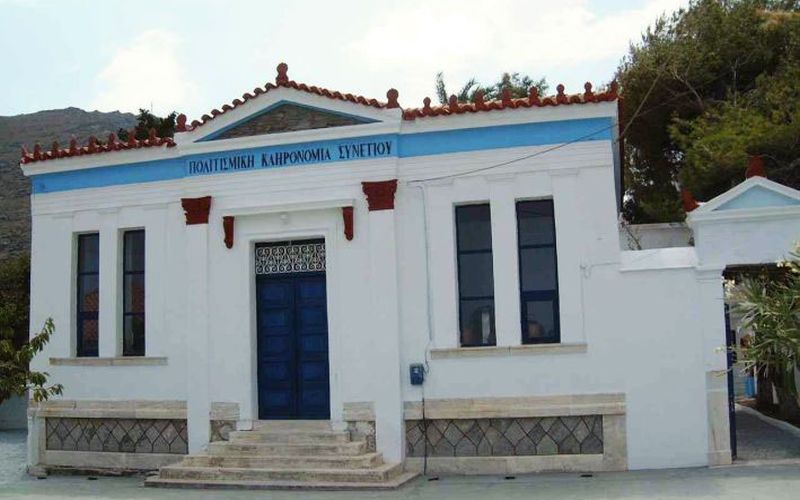 FOLKLORE MUSEUM
The Folklore Museum of Cultural Heritage of Syneti -as its full name is- is housed in the school of Syneti village, built in 1900 with a donation by the national benefactor Andreas Syggros and stopped operating in 1999. Its rooms have been converted into a typical andriotic house with the corresponding furniture, utensils and tools.
Location: At Syneti village, 7 km from Chora.
How to get there: As you leave Chora (heading towards Stavropeda), take the left road to Livadia-Syneti-Korthi. When you reach Syneti, turn left.
Opening hours July – August: Daily 9.00 – 13.00 and 17.30-21.30
Web site: www.syneti.8m.com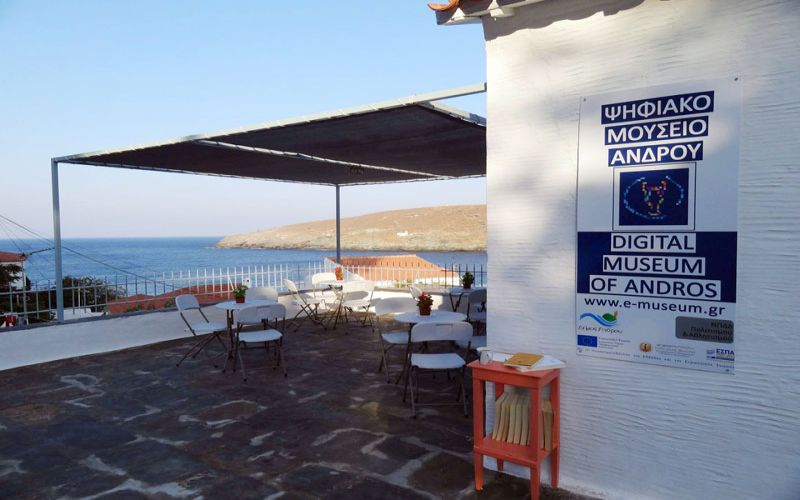 DIGITAL MUSEUM OF ANDROS
The Digital Museum is housed in the residence of Theofilos Kairis. It projects digital content relevant to the island's history, divided into five periods (pre-geometric, geometric, Classic, Hellenistic, Modern). There are video projection equipment and screens projecting documentaries dedicated to the aforementioned historical periods.
Location: At Chora, near "Theofilos Kairis" square.
Opening hours Summer season: Daily 9.00 – 21.00
Tel: (+30) 22823 60200